In this seminar we will integrate Chinese medicine treatments with in vitro fertilizations protocols. This is an advanced study course which widens the traditional aspect of basic TCM diagnosis of tongue and pulse. In this seminar we will also emphasis western test outcome such as ultrasound and blood test that the patient are asked to do during IVF protocol and interpret it to TCM diagnosis, pathology, strategy and clinical treatments. This way of integrating the western results ( for Ex. : the number of follicles recruited, endometrial thickness, the Estradiol and Progesteron level )make us more accurate about the women condition and gives us the ability to understand her Chinese medicine pathology in order to tailor the exact treatment she will need. In this way the student will have a widen aspect on how to approach in vitro fertilisation patients.
2. Concerning content lecture / workshop to TCM participants:
This seminar is for TCM practitioners who finished their studies and are working in acupuncture and Chinese herbs and formulas with women. I use Zang Fu technique of diagnosis. The minimum needs are to finish the basic TCM courses and have a practitioner diploma which is recognized by your country.
3. The objective of the lecture/workshop:
To understand the exact procedure of in- vitro fertilisation, we will study the main IVF protocols that are being used in infertility clinics. We will analyze frequently used hormones medications and their influence on the body through TCM point of view. We will elaborate the acupuncture and herbs support during every step of the IVF protocol.
4. Transfer of knowledge of theory :
• What knowledge will be passed over?
We will understand the hormone balance of women during menstrual cycle. We will study the IVF medication which are being used and their disharmony damage they do to the body in Chinese point of view. We will elaborate the difference situation of the body while taking hormone injection and also how to treat the common side's effect. The students will understand every step of the western protocol and how to approach the treatment in every step of it. We will also pay attention to endometrial lining support during IVF and during frozen embryo treatment. We will elaborate the approach to ovarian hyper stimulation syndrome
Which method of didactics of knowledge will be used? I use Power point and I will need a blackboard to write.
5. Transfer of Knowledge and practise skills:
I would love to have some patient for live treatment in the end of the third day of the seminar so the students can see how I diagnose and treat.
Which practise skills will be passed over? Acupuncture and Chinese Herbs integration in IVF patients
6. Remaining information:
Many acupuncturists have mentioned that attending this seminar was a great value for their understanding and confidence treating IVF women. They all agree that it was an important seminar that improved their way of thinking in the clinic and helped them to combine herbs and acupuncture with their patients.
For more information on my courses:
https://www.facebook.com/TCMGynecologyCourses/
---
---
When you submit for our courses, you have to pay the full amount.
When we have registed your payment, your site at the course is reserved.
Price:
3.375 DKK
KEREN ZELICHA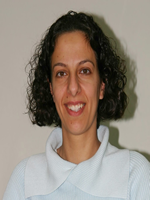 KEREN ZELICHA
1995 – 2000 Student in Genesis TCM College in Tel Aviv Israel
2000 – 2003 Master Degree in TCM Gynecology from Hang Zhou university, China. Chinese language studying and clinical research in dysmenorrhea
2003 – 2005 Japanese Acupuncture studies – Kiiko style
2007 A month in Tong Jing University with Prof. Zhang MingMin on the integration of TCM during in-vitro fertilization
2016 – 2017 A year course of meridian therapy, Wang Ju Yi & Dong acupuncture style
Work Experience:
2003 – 2008 Teaching TCM Dianosis, formulas & clinic in Meirav college of TCM
2004 – 2007 Acupuncturist at Maccabi health insurance clinics
2007 – 2010 TCM practitioner at Beilinson hospital- David Oncology center
2003 – today Working in my private clinic mainly on women's health. Teaching private courses on Endometriosis, PCOS, integration of IVF and TCM, TCM support during pregnancy.